Bay StoneWorks can create beautiful custom kitchen countertops, bathroom vanities and bathtub surrounds, fireplace surrounds, and custom furniture from any number of natural or engineered stones.
We work directly with Caesarstone and Silestone quartz. Please consult their websites for a selection of available styles. We will help facilitate the acquisition of the slab, fabricate the stone to the project specifications, and professionally install it in your home. We can also fabricate and install any other type of stone purchased independently.
If you're not sure what type of stone would be best for your project we would be happy to discuss the options with you.
Is the stone you'd like to use not pictured here? No problem. We can work with virtually any type of stone. Just let us know what you'd like!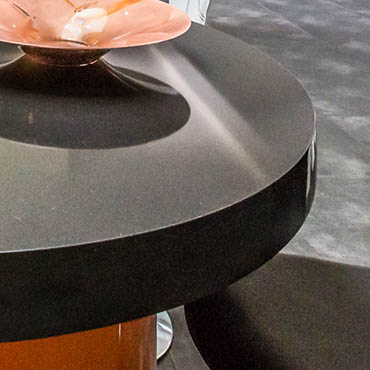 Quartz
Engineered quartz countertops are made from a mixture of at least 93% natural quartz stone and resin. The best quartz countertops are manufactured to be more hygienic and safer for food preparation and consumption than granite and marble (some quartz countertops are certified Kosher), and they are also stronger and more resistant to cracking and chipping. Quartz is nonporous, stain-resistant, and virtually maintenance free.
Quartz can be manufactured in just about any color or pattern. Some quartz mimics the look of natural stone and bright white quartz is extremely popular, while other comes in wild textures and outrageous colors to give your kitchen an completely unique look. Silestone by Cosentino, Caesarstone, and Cambria are popular manufacturers of quartz.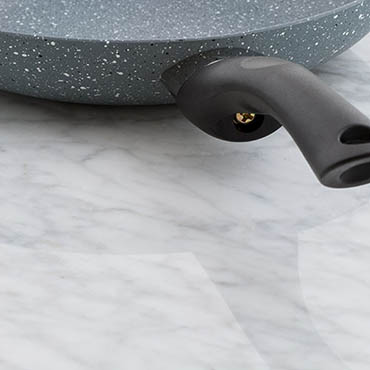 Marble
Marble is a popular choice for kitchen countertops because of its elegant timeless beauty, but there are also a number of practical reasons to choose marble. It's very easy to work with, so it can be milled, machined, and tumbled for a variety of uses. Marble can be polished to a high shine or a casual matte finish. It's heat-resistant and a poor heat conductor, which means it can stand up to hot pots and pans and also ideal for working with pastry. It's also a popular choice for fireplace surrounds because of its ability to withstand heat.
However, marble is very porous and not as durable and can scratch and stain easily—red wine and acidic fruits stain the surface while lemons and some cleaning products can scratch it. Marble countertops should be sealed and re-sealed at regular intervals. Knives or heavy pots dropped on a marble countertop may chip it.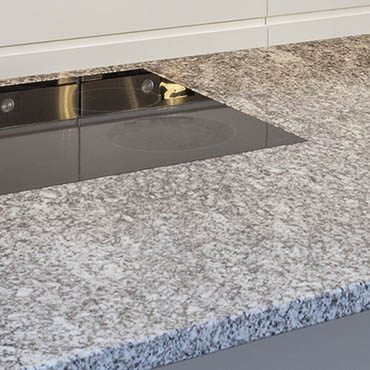 Granite
Granite's timeless beauty, natural durability, and wide variety of colors and patterns make it a very popular stone for kitchen countertops, bathrooms, fireplace surrounds, flooring, and even wall tiles. Granite is not easily scratched and also resistant to heat. Once a granite countertop is properly sealed, it's very resistant to stains.
While granite is inherently durable, it does pay to take care of it properly. Some granites can go 10 years without being re-sealed, however, most countertops will need to be re-sealed every year.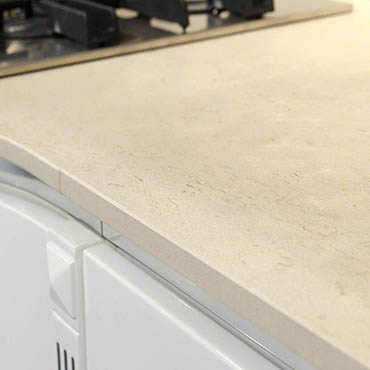 Dekton
Dekton by Cosentino is a relatively new hybrid material made of quartz, porcelain, and glass. It is very durable and resistant to heat, stains, scratches, and abrasion, although it will crack, for example, if a heavy pot falls from a shelf above. It's also nonporous and never needs to be sealed and requires no maintenance aside from regular cleaning.
Dekton can be used in virtually any application in the home where natural stone would be used and comes with a 25-year warranty (cracks and chips due to impact from heavy objects are not covered).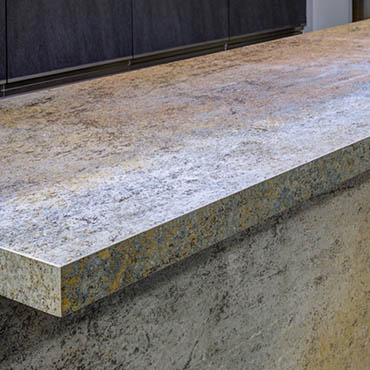 Neolith
Neolith is a new kind of sintered stone countertop made from naturally-occurring materials—quartz and feldspar for strength, minerals from glass and silica for chemical stability, and natural oxides to create colors and patterns. It is available in extremely large slabs suited to creating kitchen countertops, cabinets, flooring, steps, or finishing walls. It isn't porous and doesn't need to be sealed, and it doesn't etch.
While Neolith is extremely durable and scratch resistant (however it can be scratched by ceramic knives), the unfabricated slabs are very fragile and extra care must be taken during the fabrication process.